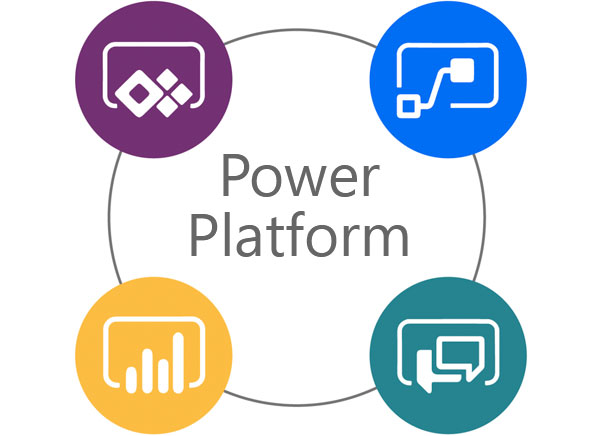 Power Platform is comprised of four key products:
Power Apps

Power Automate

Power BI

Power Virtual Agents
Power Apps provides a rapid low code development environment for building custom apps for business needs. It has services, connectors, and a scalable data service and app platform (Microsoft Dataverse) to allow simple integration and interaction with existing data. Power Apps enables the creation of web and mobile applications that run on all devices.

People use apps for every area of their lives, and business should be no exception. Most out of the box solutions do not meet exact business needs or integrate well with other business programs. Power Apps eases users into app development with a simple interface so that every business user or pro developer can build custom apps.

Power Automate lets users create automated workflows between applications and services. It helps automate repetitive business processes such as communication, data collections, and decision approvals.

Don't waste important productive hours on drafting the same email for a weekly update or walking approvals through. Not only for the individual user, Power Automate allows for the creation of enterprise-grade process automation. Power Automate's simple interface allows every level of user to automate work tasks from beginners to seasoned developers.

Power BI (Business Intelligence) is a business analytics service that delivers insights for analyzing data. It can share those insights through data visualizations which make up reports and dashboards to enable fast, informed decisions. Power BI scales across an organization, and it has built-in governance and security allowing businesses to focus on using data more than managing it.

You can consider Power BI as the analysis and insights leg of the Power Platform. It takes business data and allows you to display it in ways that makes the most sense to users. A Power BI dashboard could potentially replace a standing meeting to report out on company metrics such as sales data, progress against goals, or employee performance.
Power Virtual Agents enables anyone to create powerful chatbots using a guided, no-code graphical interface, without the need for data scientists or developers.

Power virtual agents addresses many of the major issues with chatbot building. It eliminates the gap between subject matter experts and the development teams building the chatbots. It removes the complexity of exposing teams to the nuances of conversational AI and the need to write complex code. It minimizes the IT effort required to deploy and maintain a custom conversational solution by empowering subject matter experts to build and maintain their own conversational solutions.
Among the programs listed above, there are cross cutting features which enable the Power Platform to be leveraged to its full potential:
AI Builder lets users and developers add AI capabilities to the workflows and PowerApps they create and use. AI Builder is a turnkey solution that allows you to easily add intelligence to your workflows and apps and predict outcomes to help improve business performance without writing code.

Dataverse (formerly Common Data Service): Cloud-scale database used to securely store and manage data for Business Applications.
Go to this link and visit Microsoft Certification official page for more details: